Every time you put your password or social security or credit card number into an email, or send your tax documents to your accountant, or contracts to your attorney, or business plans to an associate, every time we use a virtual fax to receive our personal medical records–every moment that our private information is out there, someone is looking to steal it.
It's not isolated to breaches within huge organizations. It affects every individual and even the smallest of businesses. It's not just identity theft. Hackers want to steal far more than that, they go after intellectual property, work product, anything that might help a competitor to take your clients, it's endless.
The more you neglect to send your files safely, and the longer these vulnerable documents sit on unsecured servers, out of your control, the more your risk increases exponentially.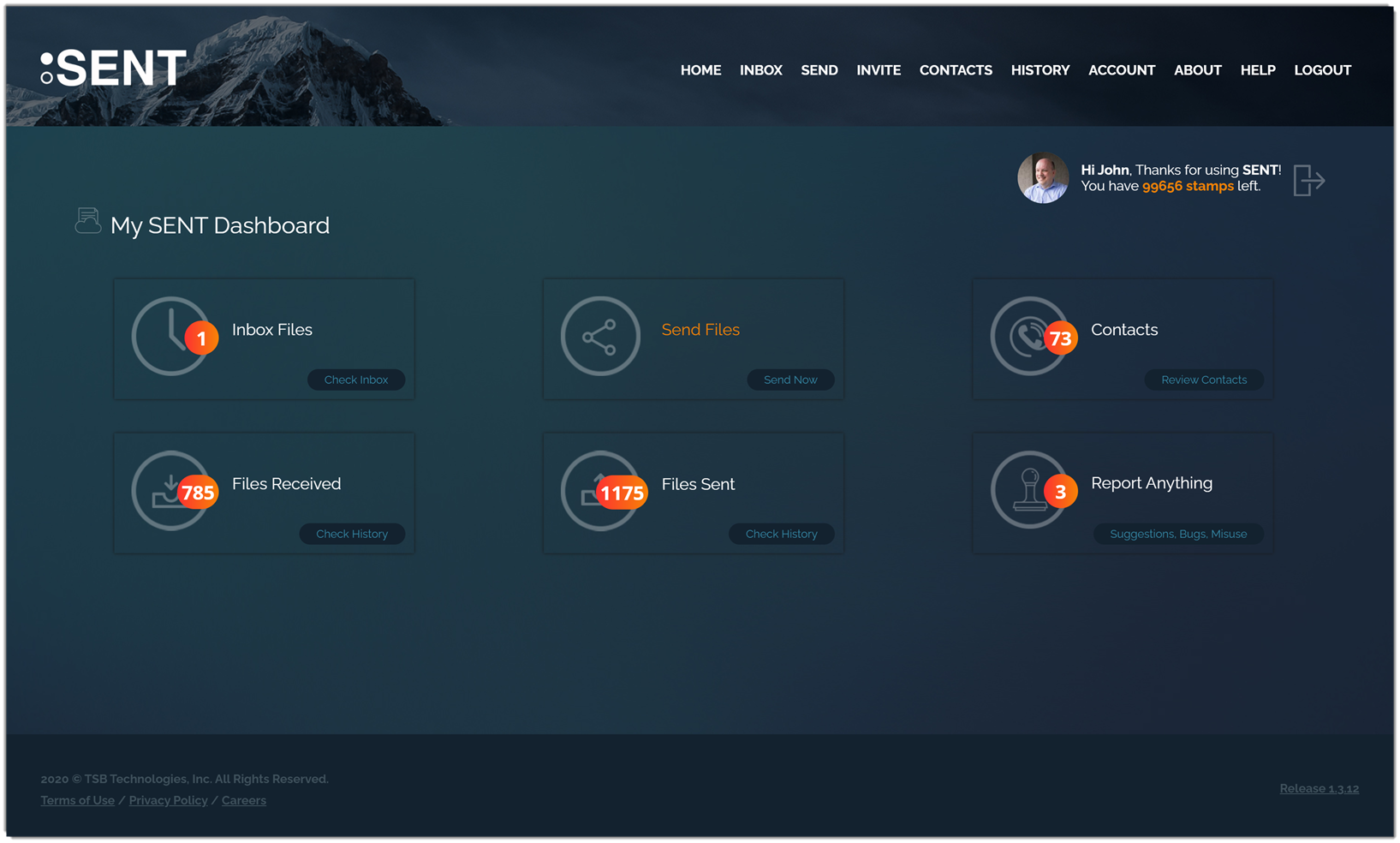 Send your hugest files, as many as you need, to as many recipients as you want! We don't limit your potential, we secure it.

SENT is priced for all. Every account comes with free SENT stamps monthly and the ability to earn more, in addition to SENT's beyond competitive subscription rates and a-la-carte options.

SENT was designed to be the most secure file transfer app and the most intuitive. As user friendly as our web app has always been, SENT for Windows pairs the added ease of an on-demand desktop app with the ultimate security achieved by end-to-end encryption.

We give your business centralized control, management of shared contact lists, and administrative control over what your users can and can't do in SENT for free.
Your files are uploaded from your computer to SENT servers using TLS. While the files are being processed, your data at rest and metadata related to your file are encrypted using AES-256 encryption.
We use a hardened key management system with new keys issued for every file transfer. In addition, users have the option to further password protect any file transfer.
Using our desktop app, you can enable end-to-end encryption with any recipient also using the desktop app. This means
the encryption keys are in your control. We don't have access to them since they reside on your computer.
Finally, we mitigate the vulnerability of your file by limiting the amount of time that it is available for download,
because the less time it's accessible, the safer it is.

SENT is
NOT

a file storage or sharing site like DropBox or OneDrive.

We enable encrypted file transfer to ensure that your important files are SENT and received safely. Files are hosted for a maximum of 5 days, then they are deleted from our server so that only the sender and the recipient have possession of it.

SENT is
NOT

like encrypted email solutions.

Which are cumbersome to use and can then reside, not only on the sender and intended recipient's computers but on multiple email servers indefinitely. This creates a higher level of vulnerability in multiple locations out of your control.

SENT was created to make enterprise-level security
affordable

and

easy to use.

We give Small Business and individuals the capability to send and receive files securely, like huge corporations do, without the cost or complications. We are proud to offer Pay-As-You-Go options, subscriptions, as well as enable users to earn SENT Stamps that never expire, ensuring that everyone has a way to SENT their files securely.
We are technology consultants and it's our job to keep our clients' data safe. You can configure a dedicated VPN, or physically deliver a file to someone on a memory stick, or you can save all that time and money and just use SENT.
Michele M
Owner, Consul-vation, Inc.





Our engineers need to send designs to and from our clients, the files are huge and need to be secure. SENT is easier and safer than email and has no file size limitation. It is everything we need.
David M
Founder, ProSource Supply





We have been desperate for a safe way to send and receive our clients' private tax information. This is awesome!
Lawrence F
Owner, LPF Accounting